I've been to the talks by Paul saying that Test Managers are in decline, and I also spoke at a couple of conferences on the same subject after researching a near 50% fall in Test Manager roles in the UK in 2 years.
Interestingly though, I am looking for a Head of Test/test Manager/test Coach role once my interim role finishes. I was, up until February, a Senior Test Manager - we then followed a path along the squad model, and my role would have morphed into a general Engineering Manager role, which I didnt necessarily have a problem with, it just isnt the way I want my career to go. So rather than be pushed into something, I took redundancy.
Over the past few months I have looked with interest at the number of Test Manager roles that are still being advertised. I assume most (but not all) are genuine, but it seems that the decline must have slowed, otherwise there would be a lot less open vacancies.
What does this tell me?
There is a need for management of particular teams - maybe they are not following squad models, or are Agile but not as mature as other organisations, there is a need for coaching and mentoring (I am not interested in any job that doesnt have these as key responsibilities!!), and if testers are isolated, (1 tester to x devs and BA's), who do they go to with testing issues?
I think the future of the test manager is not as uncertain as it appeared - lets review in another 2 years.
Hi Steve - I think you're absolutely right to make the distinction between maturity and team size here. I also see plenty of Test Manager roles in the Thames Valley / London area so if I were job hunting I wouldn't be short of options.
It has been good to discuss the role and direction of the Test Manager/Coach in this thread.
We run Dev and Test within the same management structure and last summer switched so that we now have a Dev Manager with a strong QA background (and some dev from about 15 years ago) plus a Technical Architect. This gives us good coverage from both the Test and Dev sides of the coin. (We have in-house teams plus some outsourced teams).
How big is your development/test group Christina?
Simon, our numbers are fairly fluid (hence using off-shore to bolster team numbers when needed) but we're generally hitting around 20 with 1:4 test to dev ratio.
So, I work for a small company, with 6 developers and 3 designers. There are only 2 testers, myself being one of them. My colleague is at a senior level and myself at a mid - senior level. We don't have a test manager. Instead, we are both managed by one of the joint MD's. Lucky for us, he used to be a developer and knows a lot in the world of testing, but we basically manage our own development.
We make our own training suggestions, we run our own work load with very little intervention at all. If ever we have problems or need help, our manager is always on hand to help.
Bearing all this in mind, if we were a bigger company, I would certainly suggest that we take on a test manager. Bigger teams employ people at different levels and who have different skill sets that can be used in many different situations. A test manager can help utilise people in the right way and place them where they are most needed.
In short, I think a test manager can be very important and there is definitely a need for the role, but I think it depends on the company and how many testers are employed, what level the testers operate at etc.

Our test setup seems to be top heavy.
Test Director, Test Manager, Test Lead, Test coordinator.
To me, the lead and coordinator perform the same functions. Report monitoring, mentoring, test review and they have extensive application and testing knowledge.
The Test Director should be seen as a link between senior management and the other application teams within the business and is in discussion with the leads. They deal with the hiring and firing and the money side. They should have a knowledge of test functionality and the way their business operates as well as an ability to source extra requirements, be that software, hardware or staff to improve the ease of testing for the staff. Not solely a manager filling a void because it has always been there.
The Manager is not required. The director and the manager really perform the same functionality.
Leads should mentor, identify and validate. They should facilitate the ease of working for the general tester and assist with links and discussions to developers and other testers where needed.
In some areas with large teams they are a requirement. We have 12 in our group, but as detailed 4 of them do no testing but just direct traffic with little system or testing knowledge.
The testers are given a piece of work and then left to their own devices. When not if a failure is identified in production, the tester wears the blame as test management is just a signaling device on the freeway to delivery.
YMMV, but this is my experience and one I hope to change.
My current job title is Test Team Leader, I work for a large company and have a team of 5 Senior Test Analysts, 13 Test Analysts and 6 Junior Test Analysts…oh and 1 contracted TA. I report to the "Development & Test Manager", who has no experience in testing, but acts as that bridge to the rest of IT (Directors and Heads Of). The D&T Manager also has 5 development teams to look after, ranging between 3 and 5 people in each with one Senior Developer in each.
I guess my day to day role is that of a Test Manager, although that being said, I do sometimes question the necessity of my role. The STA group that I oversee consists of some excellent men & women who can handle most of what comes in, and could easily escalate to the D&T Manager.
Previous to this role I was Test Manager for a large global medical company, it was a newly formed function and having me there was perhaps beneficial especially as the new team were not testers by trade.
The more I look around now for different opportunities, it's very rare that I see the role Test Manager come up in the job searches. Most are looking for Test Lead, or Senior Test Analyst…sometimes different titles like Testing Leader. Could this be a move to reduce the overall salary required to get someone at the 'head' of the testing tree…maybe, but then I can be a pessimist sometimes

. More likely I would like to think that the resultant shift is due to modern methodologies like DevOps and Agile, where there is no need for a Test Manager (in my opinion).
I am keen to progress my career even now, but to do so I fear that I will need to get "back on the tools", to be a practitioner rather than a manager. I'm okay with this, so long as I can find the right role (and salary). I do fear the role of Test Manager is on the way out, and I'll need to evolve or die…who knows, maybe I'll turn back to my previous experience in development

.
To me there are three different activites that typically goes into the role of test manager in different places.
Project Manager for the testing effort
Coaching employees with the title tester in their work and career
Working with the overall quality strategy for the organisation
In modern software development, having the single point of coordination is an outdated idea so job 1 is of the table.
Learning from the fully distributed and autonomous people at Valve, one common critique is the lack of career coaching, so the coaching aspect is still important in the modern development. Having been an engineering manager for a software development team with both testers and developers in it I must say that coaching a tester or coaching a developer is not that different. Sometimes it helps to know the domain, sometimes it hurts. And it is more important to develop your coaching skills than to know the domain to be a good coach.
The last area is, the strategic part is tricky. In the distributed, autonomous, adaptable team environment, the need for the strategic directions are still there but it is requires less management and more coaching to get there. Some colleagues of mine call themselves quality coaches which tries to work in this area.
So all in all, no there is no need for Test Managers in modern software development.
@ola.sundin As per my own post on this topic, I do think you are right. In modern software development the role of Test manager is one that is dying, it's just not required.
Role of Test Manager, my simplified view:
In a consulting company - manage contracts - can be called Sales Manager…
As a consultant for other companies - do whatever the others require; they usually are asked by the companies to do particular things they read on the internet, or they dream about doing. Very few test managers dare to challenge, as they want to keep the contract. They can do anything in theory, most of the times with just an ISTQB Test Manager certificate to their name: teach everyone how to test in a few days, do a test assessment, create a very structured process which includes lots of documentation and detailed steps, etc…
as a full time test-manager variant 1 - act as a tester, as a test lead, and be responsible of how testing is performed on particular components/modules/products.
as a full time test-manager variant 2 - act as a lead and translator for a team of outsourced persons; manage what they do, the value of their work, the way they work…
as a full time test-manager variant 3 - act as an architect for the quality of the systems in relation to general processes of: development, integration, deployment, implementation level testing coaching and training, environments architecture, test systems management, complicated architecture and tooling integration…etc.
as a full time test manager variant 4 - be the person that's always in all the meetings with higher managers, and just orders stuff to a team of people, without knowing much about testing.
Not so long ago I entered the testing world in a fairly sized software house around 100 people, for the first couple of weeks I was working under someone who was sort of a test manager/test lead for the team and I a tester.
Around 3 months in i got moved into a new team as a sole tester in that team. For me being new to the testing scene I didn't know how important it was to have someone in place to do what a Test manager does (I understood what they do and their role, but i didn't know the impact!).
I guess in conclusion i think they're a necessity, especially if the project is large and spans over a long time.
My current role's Dev Manager (I've not done actual dev work since the 1990s!). I was brought in 14 years ago to introduce a QA function (note QA not test) into a small dev team. Since then I've worked in QA, Test and Analysis (usually all at the same time) and we've expanded to have a team of 5 or 6 testers (flexible as we outsource some of the work). We've had a Test Lead and run a Test Team but now have testers assigned to dev teams. My role's effectively an amalgamation of Test Manager, Project Manager, Scrum Master and Dev Manager - I rely on an excellent Technical Architect and a CTO for tech advice. We hover around the 20 dev mark so are not a large department and I still get involved with hands on testing as well as analysis, UX etc. For our more junior testers it's important that they've a senior colleague available to advise and guide them, also for the department to have someone who overseas testing and ensures that we're all as efficient and effective as possible whilst ensuring we continue to improve our QA across the entire department.
Test management is definitely dying - and fast. I was a senior test manager in a very large utilities company for over 5 years and my role was focused on resource management, managing test budgets/forecasts and fielding escalations from project managers. Projects had their own test managers who were basically test leads. In the end, the company decided to outsource almost all of testing, other than the head and a few other senior people so I was made redundant.
I think in future there will only be 'hands on' test leads and heads of testing - managers will go. The trend started as long ago as 2000-2002 and it has now escalated. In the '90s testing jobs came out in dozens every week, now it's more like dozens every year. Test managers will need to re-skill and go for project management or business analysis roles, I don't see any other option. Top heavy management is a thing of the past - nowadays if you don't add direct value by 'producing' you're out of the door. It's brutal - and it will only get worse. There was a time when test managers were not expected to produce technical deliverables but now it's standard, so the technical skill requirements for the few remaining test management vacancies are becoming more and more demanding. Employers want test managers who are also software engineers. Test managers used to be managers who knew about testing, but now they are becoming becoming test engineers who know about management.
I completely agree with this, and am starting to see it first hand as my role looks to be changing within the next 12 - 18 months. I think that as a Test Manager, and perhaps even a Test Lead, you now must think about moving out of a direct test based role or dusting off your skill set to become more hands on again.
I think test management is an ongoing process that will be forever. For a successful software testing, it is a must to have a proper test management process so that you can get the output that you wanted to achieve.
The role of the test manager is very important when it comes to managing the test teams who are working on a distributed environment.
Thank you @jesper for all the interesting links and references !
I did a blog and lightning talk on Modern Test Leadership where I talked about the need for the role to evolve from a traditional test manager to more of a test coach and advocate for quality.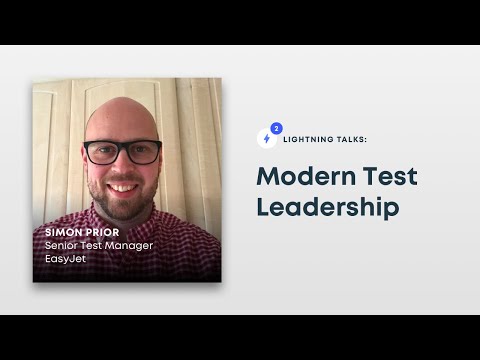 Interesting to read what people think about when they hear "Test Manager" and how they see the future of that role based their perception of the term.
For me it's a manager responsible for testers. We have them as country supervisors (not enough testers to split it further). Because there isn't enough work for a full position they are also work as testers. But what they do is really important. I believe it's important to have someone from management on the testers side, someone that understands testing to support you and in case of emergency "pull rank". Unfortunately it seems really hard for other managers like Dev Leads to really include testers on an internal level. Maybe more training, a younger generation or something else could fix this but I'm not seeing any improvements. With only 1-3 testers per team it can be really lonely sometimes. So having our own manager is super helpful.
The role as a coach for testers is also important. Actually our test managers are so much better at this than other managers in the company. They really pay attention to your personal development and remind you to think about what you want to learn and where you want your carrier going. And they support you in reaching your goals. Too often we're so busy with our tasks that we forget about longer term goals. Being in charge of several teams gives them the opportunity to connect people working on similar problems or reallocate test resources to help a project in trouble.
Maybe in an ideal world with ideal people those tasks wouldn't be necessary or could be done by others (and I would really like to be in this world of productive self-organizing agile teams where everyone takes quality seriously), but we have to remind ourselves that we are in the real world with real people.